Robb Wilentz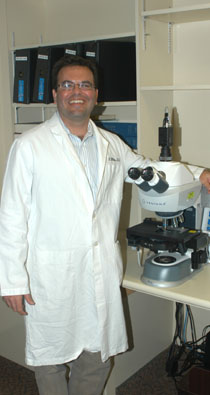 Robb E. Wilentz, M.D.
is a Dermatopathologist at FirstPath. He received his medical education at The Johns Hopkins University School of Medicine in Baltimore, Maryland. He was a faculty member and completed Fellowships in Pancreatic Disease Research and Surgical and Gastrointestinal/Pancreatic Pathology in the Department of Pathology at The Johns Hopkins Hospital, as well as a Fellowship in Dermatopathology at the University of Miami - Jackson Memorial Hospital in Miami, Florida.
Dr. Wilentz is a Diplomate in Anatomic Pathology, American Board of Pathology, and a Diplomate in Dermatopathology, American Boards of Pathology and Dermatology. A lecturer and published author of dozens of books, monographs, abstracts and articles in medical professional journals, he is a Member of the United States and Canadian Academy of Pathology, the College of American Pathologists, the Gastrointestinal Pathology Society and the American Academy of Dermatology. He also serves as a reviewer for Modern Pathology, Archives of Pathology and Laboratory Medicine, Tumor Biology, Cancer Detection and Prevention and Molecular Carcinogenesis.
Dr. Wilentz has also earned the distinction of having received private foundation and university funding for research in the areas of bile duct, gall bladder, liver and pancreas tumors, tissue array analysis in colitis-associated neoplasias, marker discovery in inflammatory bowel disease and cancer development in inflammatory bowel disease. He currently serves as a Mentor for the Young Scientists Program at Pine Crest School in Fort Lauderdale, Florida, among other community activities.