Naomi Samter Montague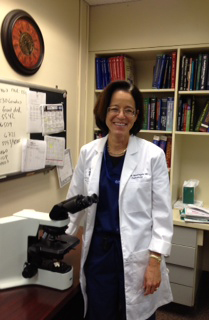 Naomi Samter Montague, M.D., Ph.D., M.S., P.G.
practices pathology at Broward Health Medical Center. She is board certified in Anatomic and Clinical Pathology and sub-specialty boarded in Pediatric Pathology as well as Hematopathology. She serves as the departmental liaison to the pediatricians and patients of the Chris Evert Children's Hospital. A graduate from the University of Miami School of Medicine (2005), she completed her residency and fellowship training programs at the Jackson Memorial Hospital/University of Miami.
Prior to attending medical school, she earned a B.S. in Marine Science/Geology (1984), an M.S. in Marine Geology and Geophysics (1989) and is a Professional Geologist for the State of Florida Department of BPR. In addition, she has a PhD in Ergonomics. Additionally, Dr. Montague has experience and expertise in Gastrointestinal Pathology, Flow Cytometry and serves as the Pediatric Pathology Consultant for FirstPath.