Fred Reineke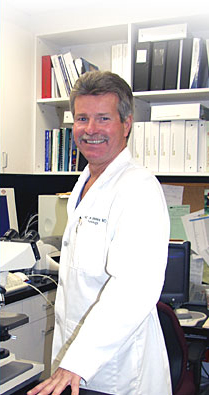 Fred W. Reineke, MD
is a co-founder, Vice-President and COO of FirstPath. Dr. Reineke is Medical Director of Laboratory Services at Broward Health Medical Center where he serves on numerous committees and is a voting member of the Medical Executive Council.
Dr. Reineke attended the University of Missouri and received his medical education from St. Louis University Medical School. Dr. Reineke completed his residency at St. John's Mercy Medical Center in St. Louis, and then enlisted in the United States Air Force on a military scholarship, where he served as Chief of Pathology at SAC Headquarters in Omaha, Nebraska.
Dr. Reineke was Chief of Pathology and Director of Laboratories at Holy Cross Hospital in Fort Lauderdale, Florida from 1994 to 1996. Dr. Reineke is a board certified anatomic and clinical pathologist and a Fellow of the American Society of Clinical Pathologists and the College of American Pathologists, for whom he served as the designated spokesperson in nationally-aired public service announcements for cholesterol and thyroid disease. Dr. Reineke has served as a peer inspector for the College of American Pathologists Laboratory Accreditation Program.
Dr. Reineke has special interest and expertise in clinical pathology, surgical pathology and cytopathology. He is an active member of the Caducean Society of Greater Fort Lauderdale.